Maple Brown Ale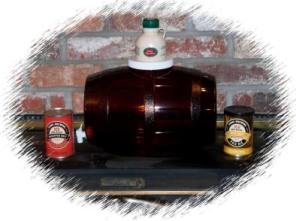 Sheppy Brew Maple Nut Brown Ale was to be in honor of, not necessarily a clone of Tommyknocker's Maple Nut Brown Ale. I had intended to use 1 can Englishman's Nut-Brown Ale Hopped Extract and 1 can Mellow Amber UME. When I grabbed the cans, though I did not pay attention to what I was grabbing, and ended up making it with 1 can West Coast Pale Ale and 1 can Creamy Brown UME. So, it is going to be darker than I intended, but don't most great inventions come from accidents?
As a rookie brew-master, I can not say for sure how it will taste until it comes out. This is the first Sheppy Brew original recipe ... or at least a recipe that I did not copy straight from somewhere.
Recipe:
1 can West Coast Pale Ale Hopped Extract
1 can Creamy Brown UME
2 cups Pure Maple Syrup
The beer is dark in color with low to modest bitterness, not too hoppy with a slight maple flavor. It is 6.5 % Alcohol (by volume). I do have to say that this beer was my biggest disappointment. Could taste too much alcohol (which was most likely high fermentation temperatures) and really the maple did not come through nicely. Plus, I decided that the brown sugar in Dragon Spit really satisfied what I was trying to accomplish with this beer. So, I do not really plan on ever brewing this beer again.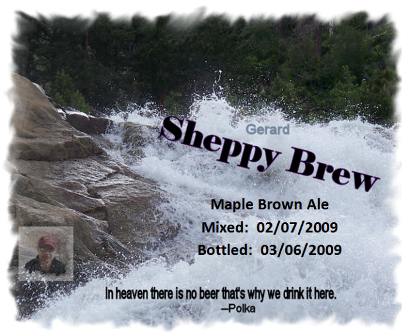 | | |
| --- | --- |
| Date | Note |
| 02/07/2009 Sat | Mixed the Maple beer. Grabbed wrong extract, so the beer will be darker than originally intended. Fermentation in Rutt. |
| 02/17/2009 Tues | Moved Rutt into our big cooler to see if I can reduce the heat in our house back down. |
| 02/20/2009 Fri | Sampled beer for first time. I am very pleased with the taste and the color. Will ferment for another week. |
| 02/28/2009 Sat | Bottled beer in 6 liter bottles and 6 12 oz bottles. The sample was great. I am really looking forward to trying this beer. |
| 03/08/2009 Sun | Bottles are firming up nicely. |
| 03/14/2009 Sat | Moved bottles into the fridge for conditioning. |
| 04/02/2009 Thur | Had a little beer tasting party at in-laws. We tasted CABA, 1776, Eric's Red, and Maple Brown. The tasters were all either non-beer drinkers or light-beer drinkers (except me). CABA was the favorite. This one was the least favorite. This beer is a major disappointment. The maple taste is not there, and there is a noticeable alcohol taste. I think I am going to stay away from maple beer for awhile. |
| 04/05/2009 Sun | Tasted again. Decided that it was not quite as bad a disappointment as I thought before. Still not my favorite, but it is ok enough to at least drink it all I think. |
| 04/10/2009 Fri | Tried again. Still getting better. Think I'll let it condition another few weeks before trying to see what a considerable amount of extra conditioning time does to it. |
| 04/24/2009 Fri | Read a bit about warm conditioning vs. cold conditioning. As a result, I am going to move all my maple brown bottles from the fridge into a cooler. Am hoping that I can keep the inside of the cooler at about 60 degrees. We'll see how it goes. Will probably take a couple bottles out around 5/14 to chill and taste that weekend. |
| 05/15/2009 Fri | Tasted again. After about 2 months of conditioning, this is a pretty good beer. The maple taste is way more subtle than the Tommyknocker Maple, but this is a pretty good brown ale. Obviously needed longer conditioning than my original taste. |
| 06/09/2009 Tues | Finished off the last of this one while watching the NBA finals. Go Magic (I do not care about the Magic.. just want LA to lose). I am going to stay away from maple for awhile. I may try some to carbonate, some day, but no time soon. |
Recipe
Maple Brown
Style
American Brown Ale
Brewer
Sheppy Brew
Batch
2.13 gal
Extract
Recipe Characteristics
| | | | | | | |
| --- | --- | --- | --- | --- | --- | --- |
| Recipe Gravity | | 1.065 OG | | Estimated FG | | 1.017 FG |
| Recipe Bitterness | | 13 IBU | | Alcohol by Volume | | 6.4% |
| Recipe Color | | 18° SRM | | Alcohol by Weight | | 5.0% |
Ingredients
| | | | | | | |
| --- | --- | --- | --- | --- | --- | --- |
| Quantity | | Grain | | Type | | Use |
| 1.38 lb | | Maple Syrup | | Sugar | | Other |
| 1.21 lb | | MrB. Creamy Brown UME | | Extract | | Extract |
| 1.21 lb | | MrB. West Coast Pale Ale | | Extract | | Extract |
| Quantity | | Hop | | Type | | Time |
| 1.00 oz | | MrB. West Coast Pale Ale | | Pellet | | 5 minutes |