Gringo Cervesa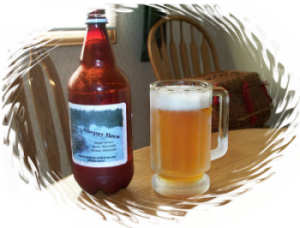 Well, in March of 2009, I realized that if I were going to make a special beer for Cinco De Mayo, I had better get started. Mr. Beer has a recipe called Cervesa de Cinco de Mayo, but I did not have any Classic American Blonde Ale. Besides, a Sheppy Brew special should really be a Sheppy Brew recipe. I did have a couple cans of West Coast Pale Ale Hopped Malt Extract and some MB Booster that I would like to get rid of, and that running that mix with some Extra Light DME yields a similar flavor profile as Cervesa de Cinco de Mayo with a higher alcohol content.
We really enjoyed Gringo Cervesa on Cinco de Mayo with our enchiladas, and the beer did not last long.
By the time it was time to start thinking about this again, I was in my non-Mr. Beer phase of brewing. I also came across the "Cream Ale" style of beer which totally was not what I expected. I thought it would be fun to try that style, but as Gringo Cervesa was more of a Pale Ale, I decided to leave in some of the American-style hops that made the first version so good. So, I suppose this is not really a cream-ale but more of a light bodied pale ale. We'll see how it turns out.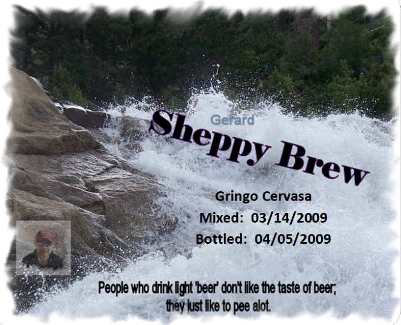 Gringo Cervasa (batch #2)--- cost $13.01
| | | | | | | |
| --- | --- | --- | --- | --- | --- | --- |
| Style | | Cream Ale | | Batch Size | | 2.40 gal |
| Type | | Partial Mash | | Boil Size | | 1.92 gal |
Recipe Characteristics
| | | | | | | |
| --- | --- | --- | --- | --- | --- | --- |
| Recipe Gravity | | 1.056 SG | | Estimated FG | | 1.016 SG |
| Recipe Bitterness | | 19.9 IBU (Rager) | | Alcohol by Volume | | 5.23 % |
| BU : GU | | 0.352 | | | | |
| Recipe Color | | 3.2 SRM | | | | |
Ingredients
| Amount | Item | Type | % or IBU |
| --- | --- | --- | --- |
| 2 lbs | Briess Pilsen Light LME (2.0 SRM) | Extract | 50.00 % |
| 1 lbs | Pale Malt (2 Row) US (2.0 SRM) | Grain | 25.00 % |
| 8.0 oz | Corn, Flaked (1.3 SRM) | Grain | 12.50 % |
| 0.25 oz | Centennial [10.00 %] (55 min) | Hops | 19.9 IBU |
| 0.50 oz | Cascade [7.80 %] (Dry Hop 3 days) | Hops | - |
| 8.0 oz | Sugar, Table (Sucrose) (1.0 SRM) | Sugar | 12.50 % |
| 4 Pkgs | Mr. Beer Dry Yeast (Mr. Beer #MrB01) | Yeast-Ale | |
Mash Profile
Single Infusion, Light Body, Batch Sparge

| Step Time | Name | Description | Step Temp |
| --- | --- | --- | --- |
| 75 min | Mash In | Add 1.88 qt of water at 161.4 F | 150.0 F |

Batch Sparge Round 1: Sparge with 0.72 gal of 168.0 F water
Batch Sparge Round 2: Sparge with 1.01 gal of 168.0 F water
Recipe Notes

Recipe
Gringo Cervesa
Style
American Pale Ale
Brewer
Sheppy Brew
Batch
2.13 gal
Extract
Recipe Characteristics
| | | | | | | |
| --- | --- | --- | --- | --- | --- | --- |
| Recipe Gravity | | 1.059 OG | | Estimated FG | | 1.015 FG |
| Recipe Bitterness | | 19 IBU | | Alcohol by Volume | | 5.7% |
| Recipe Color | | 5° SRM | | Alcohol by Weight | | 4.4% |
Ingredients
| | | | | | | |
| --- | --- | --- | --- | --- | --- | --- |
| Quantity | | Grain | | Type | | Use |
| 1.00 lb | | Extra Light DME | | Extract | | Extract |
| 0.81 lb | | MrB. Booster | | Sugar | | Other |
| 1.21 lb | | MrB. West Coast Pale Ale | | Extract | | Extract |
| Quantity | | Hop | | Type | | Time |
| 0.50 oz | | Cascade | | Pellet | | 5 minutes |
| 1.00 oz | | MrB. West Coast Pale Ale | | Pellet | | 5 minutes |
| | |
| --- | --- |
| Date | Note |
| 03/14/2009 Sat | Mixed up the beer. Boiled the Booster, Hops, and DME for 5 minutes. |
| 03/26/2009 Thur | Sampled to try to decide whether to bottle before or after going to Nevada. Am leaning toward after. I think this will be a pretty good beer. Thinking of calling it "Gringo Cervesa" instead of "5 Mayo Cervesa". |
| 04/05/2009 Sun | Bottled in 4 PET liter bottles and 12 12oz bottles. Should be well conditioned in time for Cinco De Mayo. |
| 04/09/2009 Thur | PET bottles are nice and firm. Carbonation going well. |
| 04/19/2009 Sun | Put bottles in beer fridge for cold conditioning. |
| 05/02/2009 Sat | Yes, I told myself I was going to wait until 5/5 to have my first taste, but I brought a few bottles up to Estes park for our Romantic Weekend and since I had them up there, I had to try one (or three). Quite frankly, this might be the best Pale Ale ever created. It was awesome. If you are a Pale Ale fan, you will love this beer. |
| 05/05/2009 Tues | Yes, this is the best Pale Ale ever brewed. Unfortunately, my wife and I wiped out a pretty large number of these on Cinco De Mayo. Oh... and we had tacos instead of enchiladas. |