Classic American Blonde Ale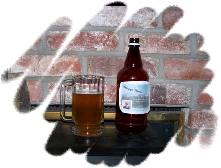 The first batch of beer I brewed was the Classic American Blonde Ale with Booster that came with the Mr. Beer kit. Creating the wort is as simple as stirring dissolving the "booster" into water, boiling, and then mixing in the malt extract. I created the wort and put it into the "keg" to ferment on Saturday, the 10th of January.
I let the keg o beer ferment for one week (per the Mr. Beer instructions) and bottled it with table sugar on the 17th. I tasted the beer at this point. It tasted like flat beer, which is ok. The purpose of this secondary fermentation with table sugar is to add carbonation to the beer.
The beer carbonated for another week in one liter PET bottles. Then on the 24th, I put the bottles in the fridge to "condition". I let the beer sit until Super Bowl Sunday (Feb 1) until I tried my first beer.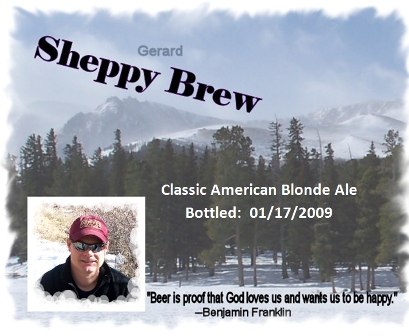 Classic American Blonde Ale is a balance flavored, golden colored beer low on the bitterness scale with a low alcohol content.
Usually, I like my beer darker, more in the amber to dark range, but I think this was a good first beer to try out. Plus, this beer will be close to Tracy's style of beer.
Anyway, the beer turned out pretty good considering it is not really the style that I prefer. And, Tracy did say she liked it.
The image to the left is what I created as a bottle label. Yes, I know I am a geek, but I thought it would be fun to personalize my beers.
So far, this beer has gotten the most praise of any of my beers. I shared it with my sister-in-law who said in a surprised voice "Wow!!! This is a really good beer!" I also shared it with my mother and father in law and my wife's cousin and his wife while we were visiting Nevada (4/2/2009). We tasted CABA, 1776, Eric's Red, and Maple Brown. This was overwhelmingly the favorite. Of course, MIL and the cousin's wife are basically non-beer drinkers and FIL and cousin are Miller Light, Coors Light type drinkers, so among this group, it is not surprising that my lightest beer would be the favorite.
Based on the great response this beer has received, I need to make sure I have plenty of this in stock when I am going to have visitors. I do think that instead of booster, I will use a Pale UME or an extra light DME next time I brew it.
Classic American Blonde Ale
Recipe
Classic American Blonde Ale
Style
Blonde Ale
Brewer
Sheppy Brew
Batch
2.13 gal
Extract
Recipe Characteristics
| | | | | | | |
| --- | --- | --- | --- | --- | --- | --- |
| Recipe Gravity | | 1.038 OG | | Estimated FG | | 1.009 FG |
| Recipe Bitterness | | 10 IBU | | Alcohol by Volume | | 3.7% |
| Recipe Color | | 3° SRM | | Alcohol by Weight | | 2.9% |
Ingredients
| | | | | | | |
| --- | --- | --- | --- | --- | --- | --- |
| Quantity | | Grain | | Type | | Use |
| 0.81 lb | | MrB. Booster | | Sugar | | Other |
| 1.21 lb | | MrB. Classic American Blonde Ale | | Extract | | Extract |
| Quantity | | Hop | | Type | | Time |
| 1.00 oz | | MrB. Classic American Blonde Ale | | Pellet | | 5 minutes |